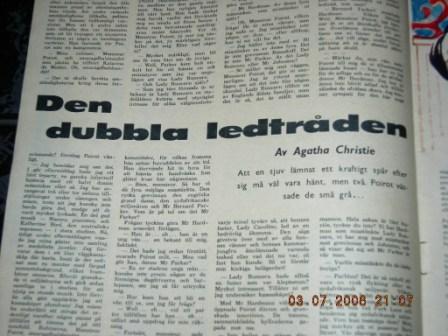 Titel: Den dubbla ledtråden
Förlag: Lektyr
Tryckår: 1963
Nummer: 44
Tryckeri: ?
Originalets titel: The Double Clue (Även som The Dubious Clue)
Första bokpubliceringen: Double Sin and Other Stories (USA) och Poirot's Early Cases (Brittiska utgåvan).
Översättare: ?
Illustrationer: T. Nygren
Pris: ?
Sidantal: 3
Problemlösare: Hercule Poirot
(Bakgrund till titeln: The Double Clue, first published in 1923, features the first of three appearances of the character of Countess Vera Rossakoff. Her other two appearances were in the series of stories in The Sketch magazine in early 1924 that eventually made up the contents of The Big Four (1927) and in The Capture of Cerberus, the final story of The Labours of Hercules (1947). Poirot's admiration of the lady mirrors that of Conan Doyle's Sherlock Holmes for Irene Adler as described in A Scandal in Bohemia (1891).
Novellen även publicerad som:
De två ledtrådarna 1990 (Poirots problem (Recensionsexemplar))